 Check-in: 11:00am
Shotgun Start Time: 12:00pm
Each year the Greater Mount Airy Chamber of Commerce hosts the Chairman's Cup Golf Tournament for Chamber members and guests as an entertaining fundraiser. Participating in the Chairman's Cup can be a fantastic networking opportunity, you can build relationships in the business community, and gain essential company recognition through a specialized sponsorship package. Treat your clients, employees, co-workers, friends or family to a fun day on the golf course! Use this as a time to relax and step away from the office, or as a business opportunity, or both!
Social Distancing Notes:
We ask that all attendees wear masks before tee-off and during periods of the day where social distancing is difficult.
Attendees must social distance and are asked to not gather in large groups.
A formal gathering will not occur during the event.
Top players will be announced after the event and prizes delivered to the players.
Sanitizing stations and items will be available.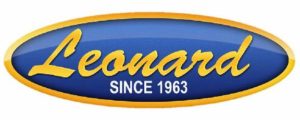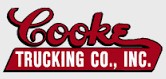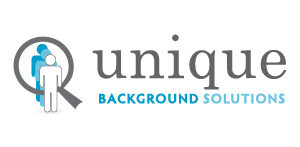 Closest to the Pin Sponsor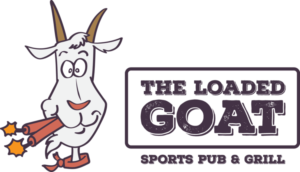 2020 Chairman's Cup Photos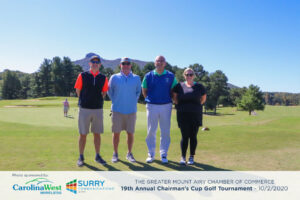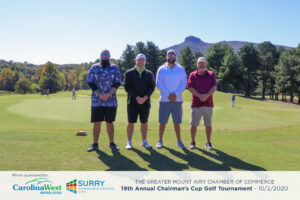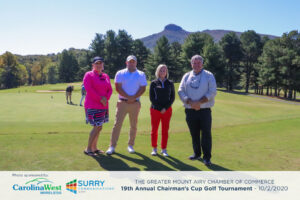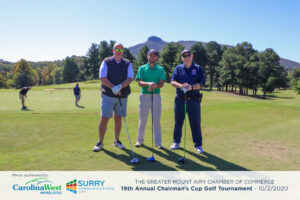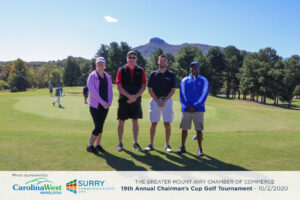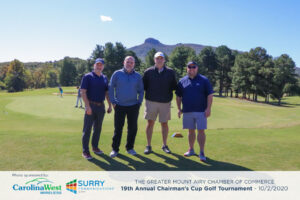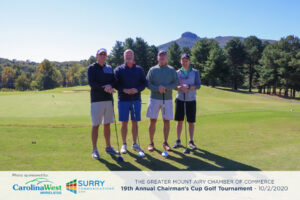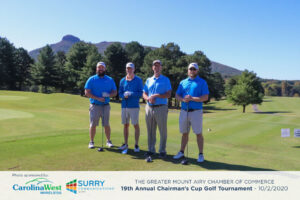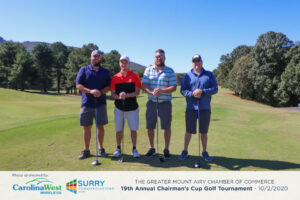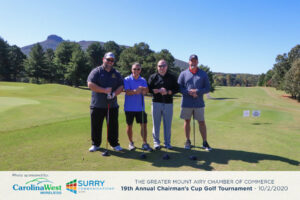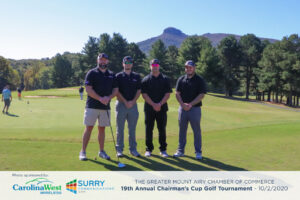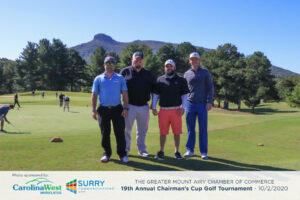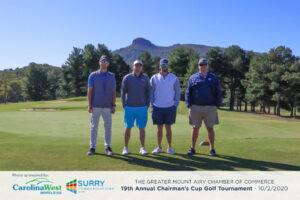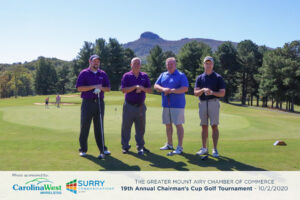 Player Slots & Sponsorship
Chamber Member Rates:
Foursome (4 Players) – $400
Single Player – $110
Non-Member Rates:
Foursome – $440
Single Player – $120
Mulligans & Throws Packages:
1 Mulligan per 18 Holes, 1 Throw per 18 Holes
Single Player Package: $20
Foursome Package: $80
Single and Foursome Player Slots Available Friday, April 12, 2019
Eagle Sponsor – $1000
Gift Sponsor – $500
Birdie Sponsor – $500
Par Sponsor – $400
Beverage Cart Sponsor – $400 
Team Photo Sponsor – $400 [CLAIMED]
Awards Sponsor – $350
Hole Sign – $125
Beverage Sponsor – Trade for Services 
As a sponsor, your business logo can be placed on Chairman's Cup event marketing, you can receive multiple player slots, have a table and signage at the event, and more.
Click here for the full details and benefits of each sponsorship package.
Schedule & Added Benefits
11:00am-12:00pm – Registration
11:00am-12:00pm – Team Photos
11:30pm-12:00pm – Lunch Available in Golf Carts, and brief introduction
12:00pm – Shotgun Start and Lunch continued
12:00pm-5:00pm(estimate) – Teams play golf!
5:00pm(estimate) – Top players will be announced
Player Amenities & Benefits
Lunch Provided: TBA
Beverage Cart: Throughout the day, a beverage cart, carrying drinks and water will travel the golf course to serve each team.
Team Photos: Team photos will be taken on each team before the shotgun start. These photos will be printed and presented to every player at the end of the tournament. Great memorabilia!
Mulligans & Throws: What better way to make a fundraiser more fun? See Mulligans & Throws Packages above.
Raffle Tickets & Prizes: Arms-length raffle tickets are sold before the tournament begins. During dinner, the raffle tickets are randomly drawn and players are awarded prizes.
Facilities:
The Pilot Knob Park Country Club Putting Green and Driving Range will be open for players to use before the tournament begins. Facilities are available for each player's use throughout the day. 
Golf Games: Dixon Golf will be stationed at multiple holes in the tournament with Par 3 and Par 5 challenges/games. Players have the option to participate (for-purchase) and win prizes such as golf balls and drivers. A portion of the proceeds go to the Chamber.