The Greater Mount Airy Chamber of Commerce 60th Annual Meeting will be held on February 11, 2021 and streamed on YouTube for Chamber members and guests to view. At the streaming event the Chamber will review the year 2020, share plans for 2021, present the 2020 Citizen of the Year award, and induct new Chairmen of the Board members and leadership. 
This will be comprised of a series of videos pre-recorded at the Chamber and various businesses in our area. We hope that by creating a virtual 60th Annual Meeting we can still reach our members and have a special gathering in the safest way possible during the Covid-19 Pandemic.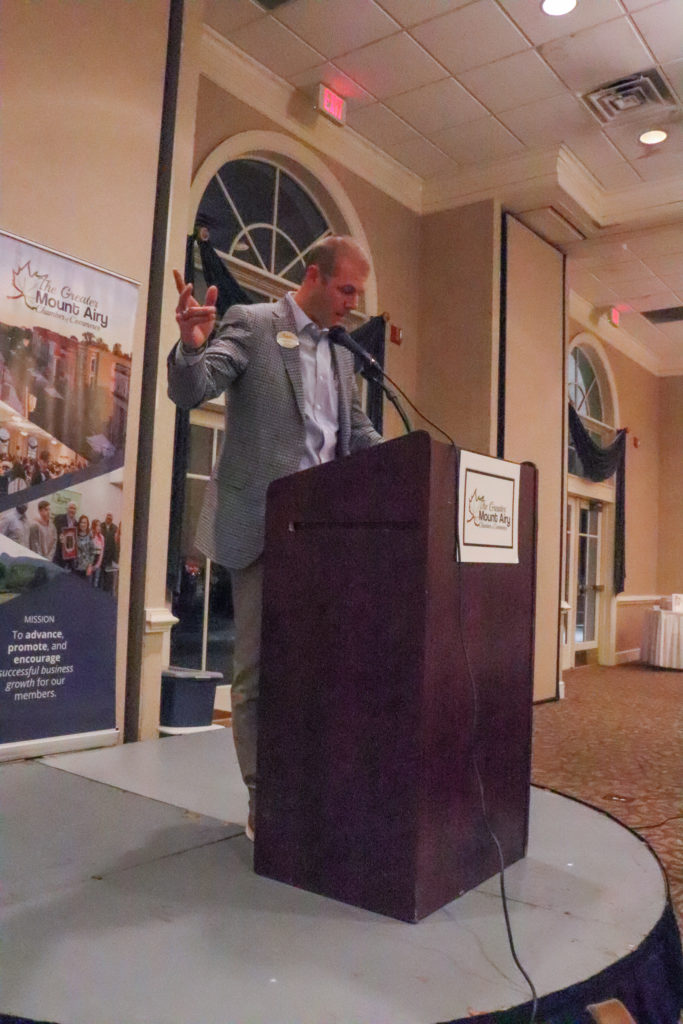 Chad Tidd (Owner/Operator of Chick-fil-A Mount Airy) Bio:
Chad Tidd grew up just outside of Greenville, SC. He attended Clemson University and graduated in the year 2000 with a B.S. in Animal Science/Pre-Veterinary Medicine. While at Clemson, Chad met his wife Reagan! Chad and Reagan have been married for 19 years and are both very passionate Clemson Tiger fans.
Read More
The Greater Mount Airy Chamber of Commerce held its 59th Annual Meeting on Thursday, January 23, 2020 at Cross Creek Country Club. Highlights from the event:
By tradition, Immediate Past Chairman of the Board, John Philips of State Farm took a selfie with the entire room of over 300 people.
James Etringer of WorkForce Unlimited, new Chairman of the Board, presented his plans for the Chamber in 2020.
The 2020 Board of Directors were recognized and took an oath of service for the new year.
Dr. Leslie Stoklosa received an award for her 6 years of service as a dedicated member of the Board of Directors
Owner/Operator of Mount Airy's Chick-fil-A, Chad Tidd, presented a memorable speech as the keynote speaker. "For what shall it profit a man, if he shall gain the whole world, and lose his own soul?" 
The well deserving Curtis Taylor, community leader and former CEO of Surry Communications, was awarded 2019 Citizen of the Year, and was absolutely surprised.
Largest number of attendees in the history of the Chamber's Annual Meetings.
This was a great evening with new and old friends! Thank you to those who attended and supported this historical event in any way.
In the place of a general admission ticket, we are asking Chamber members and guests to purchase a Virtual Ticket, $20 per person or $60 per company. This will help support the Chamber after a financially challenging 2020 and beyond. To purchase tickets online, click Register Now below.
Contact: If you have questions or need assistance purchasing tickets or sponsorship packages, please contact Travis Frye, Program & Events Director, at the Chamber.
Travis@MtAiryNCChamber.org
(336) 786-6116 ext 204
Platinum Level  $2,000
Gold Level  $1,000
Silver Level  $700
Bronze Level  $500
Chamber Supporter  $250
Click here for the full details and benefits of each sponsorship package.
Citizen of the year Sponsor